Asthalin Inhaler 200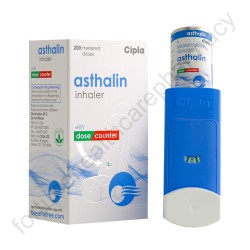 Brand:
Cipla
Availability:
In Stock
Asthalin Inhaler 200 is used to treat the symptoms of bronchospasm – narrowing of airways of the lungs and bronchioles – caused by chronic obstructive pulmonary disease (COPD) such as asthma, emphysema and chronic bronchitis. It is also helpful in relieving symptoms such as wheezing, breathlessness, chest congestion or tightness. Furthermore, it is used to prevent exercise-induced bronchospasm, a type of asthma caused by exercise or exertion.
Asthalin Inhaler 200 is just a short-acting relieving inhaler, as it has a rapid onset. It is a rescue medication that is used only when asthma attack commences. It also helps prevent an asthma episode. Remember that this inhaler is just to treat asthma and prevent the attack; it does not cure asthma. Asthma Inhaler 200 contains Salbutamol, a selective beta-2-antagonist and bronchodilator. This drug directly acts on the small airways that get constricted due to inflammation.
Salbutamol is a drug that binds to the smooth muscles making the muscles relax and dilate the bronchioles or airways to ease the airflow. This reduces contraction of airways (bronchospasm) and makes the airways to dilate for easy breathing and reducing the symptoms such as cough, breathlessness, wheezing and chest congestion. Salbutamol is a fast-acting bronchodilator, which lasts for four to six hours. It is used as a reliever medication for asthma, which is directly delivered to the lungs as an aerosol.
Asthalin Inhaler 200 is ought to be used as directed by the medical professional. You should remove the mouthpiece cover and shake the bottle well. Exhale as much as possible and then place the mouthpiece into your mouth. Now, start to inhale deeply and press the top of the inhaler to release the drug while inhaling and hold your breath for a few seconds. Remove the Asthalin Inhaler and breathe normally. You may have to take at least one or two puffs or as advised by your doctor. The effect lasts for around four to six hours.
It is not recommended to people who have history of Salbutamol allergy. Pregnant women or breast-feeding mothers should discuss with their doctor whether to use Asthalin Inhaler. Certain drugs may adversely interact with Salbutamol, such as propranolol, aminophylline, prednisolone and diuretics. Consult your doctor if you experience any unwanted symptoms after the dosage.
Write a review
Your Name:
Your Review:
Note:

HTML is not translated!
Rating:
Bad
Good
Enter the code in the box below: