Megasal 2mg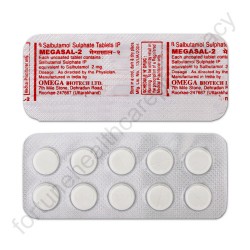 Order and get 50% discount on the use of code LFHCP50.
Megasal 2mg is an amazing medicine that is prescribed for treating chronic obstructive pulmonary diseases (COPDs) such as asthma, emphysema and chronic bronchitis. These conditions have one thing in common i.e. bronchospasm. The airways in the lungs or bronchioles undergo constriction due to inflammation, which gives rise to symptoms such as cough, breathlessness, wheezing and chest tightness or congestion. Asthma is one of the most common COPDs.
The active drug of Megasal 2mg tablet is Salbutamol (Albuterol Sulfate). Salbutamol is essentially a selective beta-2-anatgonist, a form of bronchodilator. This drug acts by soothing the smooth muscles of airways in the lungs and bronchioles. The medicine helps dilate constricted airways to allow a person to breathe more comfortable. It also helps prevent an asthma attack by controlling the symptoms such as cough, breathlessness, wheezing and chest tightness.
It is very important that you utilize this asthma medicine exactly as directed by your healthcare professional. Your doctor may suggest you to use Megasal 2mg tablet at least three or four times per day. Consume whole pill with water to promote drug assimilation process. Never keep Megasal 2mg tablets in an area exposed to sunlight or heat, instead keep them in a cool, dry place. More importantly, keep the tablets away from children.
Before using Megasal 2mg tablets, make sure you consult and inform your doctor about the health issues you have or have had. Also, inform about the treatment that you are already undergoing with over-the-counter or prescription medications. Ask your doctor whether this asthma medication is safe to utilize if you suffer from any other medical problems.
Megasal 2mg is contraindicated to people with a known history of Salbutamol hypersensitivity. There are no adequate clinical studies about the safety of this asthma drug in pregnancy and breast-feeding. Improper or irregular use of this medicine during pregnancy or breastfeeding is not advised, as it can cause problems in fetus or newborn.
The common side effects associated with Megasal 2mg include muscle cramps, insomnia, nervousness, tremor, fatigue, dizziness, facial flushing, restlessness and irritability. Visit your doctor right away if you experience chest pain, breathing issues, hives and swelling of face.
Write a review
Your Name:
Your Review:
Note:

HTML is not translated!
Rating:
Bad
Good
Enter the code in the box below: