Asthalin 2mg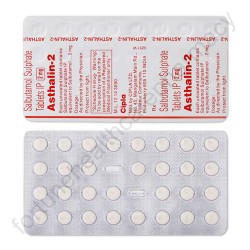 Brand:
Cipla
Availability:
In Stock
Asthalin 2mg is prescribed for the treatment and prevention of asthma and other chronic obstructive pulmonary diseases. A renowned pharmaceutical company called Cipla manufactures Asthalin 2mg. It is indicated to relieve the symptoms of bronchospasm such as cough, chest congestion or tightness, shortness of breath and perspiration. In asthma, the small airways of the lungs and bronchioles constrict due to inflammation. Asthma is often triggered by external factors such as dust, pollen, pollutants, etc.
The active chemical composition of Asthalin 2mg tablets is Salbutamol Sulphate (Albuterol Sulfate). It is an effective beta-2-anatgonist and bronchodilator. It works by relaxing the smooth muscles present in the small airways in the lungs and bronchioles. The drug opens up the narrowed bronchioles and airways to make breathing easier. It helps treat and prevent an asthma attack by relieving the symptoms such as cough, breathlessness, wheezing and chest tightness.
It is important that you take this prescription asthma medication exactly as directed by your doctor. Your doctor may advise you Asthalin 2mg tablet at least three or four times a day. Take the whole pill orally with a glass full of water for proper assimilation of the drug. Store Asthalin tablets at room temperature and away from direct sunlight and moisture. More importantly, keep them out of the sight and reach of children.
Prior to using Asthalin 2mg tablets, make sure you inform your doctor about past or present medical issues, if any. Also, inform about the treatment you are undergoing with any OTC or prescription medicines. Ask your doctor whether this medicine is safe in use if you have any choric medical illnesses.
Asthalin 2mg tablets are not indicated to people who are hypersensitive to Salbutamol. There are no adequate studies regarding safety of Salbutamol in pregnant women and nursing mothers. The drug may cause problem in fetus or newborn if taken in excess.
The potential side effects associated with Asthalin 2mg are confusion, nervousness, tremor, headache, palpations and tachycardia. Less serious side effects include insomnia, muscle cramps, weakness, dizziness, flushing, restlessness and irritability. If you experience chest pain, breathlessness, skin rashes with swelling of face, then immediately visit your medical professional.
Write a review
Your Name:
Your Review:
Note:

HTML is not translated!
Rating:
Bad
Good
Enter the code in the box below: