Salbetol 2mg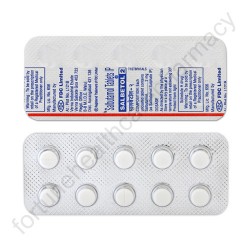 Brand:
FDC LTD
Availability:
In Stock
Salbetol 2mg is an effective medicine that is used for the treatment of asthma, a chronic obstructive pulmonary disease (COPD). It is also useful in treating emphysema and chronic bronchitis. The chief pathology behind COPD is bronchospasm, a condition in which the airways of the lungs constrict due to inflammation. Salbetol 2mg also helps prevent asthma attack. The medicine reduces asthma symptoms such as cough, breathlessness, chest tightness and wheezing.
The active composition of Salbetol 2mg tablet is Albuterol Sulfate (Salbutamol). Salbutamol is essentially an adrenergic receptor antagonist, a type of bronchodilator. This medicine works by relaxing the muscles of bronchioles and other airways in the lungs. This asthma medicine dilates the constricted air-passages so that a person can breathe easier. It also helps in preventing an asthma attack by managing the symptoms of asthma – such as breathlessness, cough, wheezing and chest congestion.
It is essential that you use this asthma medication exactly as advised by your medical practitioner. Your doctor may advise you to take Salbetol 2mg tablet three or four times daily. You should consume whole pill with water so that the drug readily assimilates in the body. Never keep Salbetol 2mg tablets in direct sunlight or heat, rather keep them in a dry, cool place. Store the pills out of the sight and reach of children.
Consult and inform your physician about the past or present medical issues, if any, before using this asthma medicine. Also, inform your doctor whether you are under any prescription or over-the-counter medicines, as certain drugs may interact with Salbutamol and produce unpleasant side effects. If you have any end-stage disease, make sure you talk to your doctor before he/she prescribes Salbetol 2mg.
Salbetol 2mg is not for those who have history of Salbutamol allergy. There are no adequate studies to know about the safety of this asthma drug in cases such as pregnancy and breastfeeding. Irregular or improper use of this medicine during pregnancy or breastfeeding can lead to problems in unborn or newborn.
The general side effects of Salbetol 2mg are muscle cramps, sleeplessness, nervousness, fatigue, dizziness, red face, restlessness or irritability. Immediately check with your doctor if you suffer from chest pain or skin rashes after taking the dose
Write a review
Your Name:
Your Review:
Note:

HTML is not translated!
Rating:
Bad
Good
Enter the code in the box below: